11-year-old commits suicide after mother reads her personal diary!!

An 11-year-old student of Holy Family School in Ulhasnagar committed suicide on Tuesday afternoon after her mother had read her diaries in which she had written about her friendship with a classmate.
Enraged, her mother had gone to school on Tuesday morning to complain to the authorities. When she returned home at 1.30 pm, she found her daughter hanging from the ceiling fan in her room, still in her school uniform.
The police have registered a case of accidental death, saying they would record the statements of the parents after the funeral.
Sayoni Chatterjee, who studied in standard VI, was friendly with a boy in her class and the two used to regularly exchange letters.

DEBATE : Should parents invade children's privacy??

Is reading of a personal diary, considered invasion of privacy??

In today's society where children have their own independence.......is it wrong to keep them under supervision n scrutiny??

Please share ur views on the above topics!!......

Lastly,
To Sayoni,
REST IN PEACE!!
Please zoom in...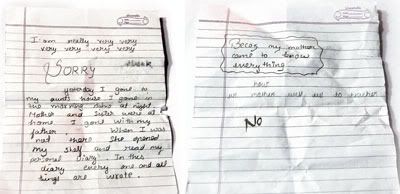 Sayoni Chatterjee, 11, exchanged this last note with her classmate at Holy Family Convent School on Monday morning. She apologises to him about her mother finding out about their relationship. He writes back, "Now ur mother will tell to teacher." She scribbles an emphatic 'No.' But later that morning Sayoni's concerned mother landed at school demanding to see the principal which upset her greatly